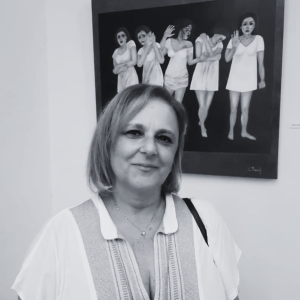 Vivetta Sarri was born, lives and works in Thessaloniki. She is a graduate of the School of Early Childhood Education-AUTh and Teaching Department School- AUTh. She worked in education, as a kindergarten teacher for many years. Her interest and passion for art and creation developed as a strong part of her personality since she was a child and led her to get involved with the arts. Curriculum and courses about art and art workshops provided her valuable knowledge and the opportunity to obtain a full-time career as an artist.
Vivetta enjoys creating concepts that play along their own dynamics, which concern feelings coming from her contact with nature. Another huge inspiration for Vivetta is human interactions. She tries through her art to express herself, to communicate her thoughts, to contribute to the creation of a beautiful world. Her paintings have been presented in many group exhibitions nationwide as well as abroad ( Bodrum-Turkey, Rome-Italy). Some of them are located in private collections.
Experiences:
· "Personal Data", Myro Gallery, Thessaloniki 19-28 May 2022.
· "Summer Vibes", Hellenic French Association, Athens, 30 May-25 June
· "The violin of Ingres", Cultural Center of the Municipality of Athens "Melina", 8-17 June 2022.
· "Thessaloniki, Port of Art and Culture", Association of Painters Thessaloniki. and B. Greece, 8-26 June 2022.
"My destiny…THALASSA", Adamantia Art Site, Neborio Andros, 14-27 August 2022.
· "Aegean Blue", Gallery Oasis, Bodrum- Turkey, 5-14 Aug. 2022
· "The Desert Flower"ArteVisione Gallery, Athens, 1-14 September 2022.
·  Nature is Art , Time of Art Gallery, Athens, 19-22 October 2022.
· "Color Dynamics", Govedarou Art Gallery, December 2-16, 2022.
· "Red-Red", French-Greek League, 5-24 December 2022.
·  Janus Bifrons, French Hellenic League, 9-21 January 2023.
·  La grande belezza , Medina Art Gallery Roma, Rome, 13-19 January 2023.
· "Air, Fire, Water, Earth", Govedarou Art Gallery, 2-22
February 2023
· "Parallel Roads", SKETBE, SKETBE, 20 March-4
April 2023
· "Portrait Art", Govedarou Art Gallery, March 31-April 21, 2023.
Interviews:
· Karfitsa
· Polismagazino
· Texnesonline
· Thessculture
WORKS