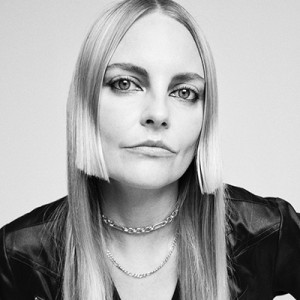 Holly Silius is a British born multidisciplinary visual artist of Lithuanian descent and BA Hons London College of Fashion educated SFX make-up artist based between Los Angeles and Europe. With a career spanning over two decades working with some of the most sought after models, celebrities and public figures as a makeup artist and multidisciplinary visual artist working across body casting, wearable art, photography and mask making, Silius is one of the most forward thinking names pushing the boundaries of contemporary wearable art. Silius also utilised her training in SFX by working in film & TV as well as Royal Opera House in London.
Holly Silius' work responds to traditional, restricted representations of the human body from European art history. For Silius, subverting these ideals is the essence of her practice. Silius' body of work explores the human form, both raw and adorned, from body cast stone sculptures to masks and wearable body jewellery. The duality of raw and adorned mirrors Silius' background in fine art and SFX. Her art practice finds its inspiration from the study of morphology and the wider body of her work centres around her fascination with the human body and the way it serves as a canvas for experimentation.
The body casts, wearable art and masks created by Silius present a futuristic intervention on the formal presentation of art, using the human body as an experimental frame for Silius' art. Having initially trained as a competitive swimmer in the UK, the artist's interest in anthropomorphism and natural forms can be traced back to her early age. Movement and body remain at the core of Silius' practice as she carefully threads the path between art, design and fashion through her wearable and non-wearable body pieces, busts and masks that explore the relationship between our materiality and our self.
In 2021 Silius produced series of bodycasts in collaboration with gender queer actor and writer Lio Mehiel, inspired by their top surgery. The evocative bodycasts and photo series titled Phantom Feel explored and reimagined traditional figurative sculpture through a lens of gender-queer and transmasculine body. The series was chosen for a major public art exhibition PATRIARCHY RIP curated by Save Art Space and Pussy Riot across 9 states in the US. Silius' series received critical acclaim across key international arts and mainstream media including The Art Newspaper, artnet, Al Jazeera, Dazed and FAD Magazine amongst others.
Silius' latest polaroid series incorporates many aspects of her practice, by adorning her subjects with body casts and body painting, as well as physically painting over the polaroids in ink, bringing her portraits out of the frame. Silius has created a series of intimate unseen polaroids with the likes of Amber Valetta, Kiernan Shipka, Hari Nef and Soko. Silius' will present her polaroids as well as gelatin fine art prints of her 3D printed wearable body sculptures as a guest artist at The Other Art Fair in Los Angeles in Spring 2022.
In 2016, Silius was invited to exhibit at Tate Britain in a group exhibit for "Late at Tate," a series of interactive workshops and exhibited work. She is also a visiting guest lecturer at the School of Visual Art in NYC. 
Private and commercial commissions of her work have led to collaborations with Prada, Gucci, Miu Miu, Apple, Yves Tumor, Surfbort, Yeezy, KKW Beauty, and Katie Grand's The Perfect Magazine. Silius' previous limited edition jewellery series have also been sold across prestigious luxury sites including Net-a-Porter, Harvey Nichols and more.
PALM SPRINGS MUSEUM
FACE SCULPTURE PIECE MADE OF MR WASH 
For Mr Wash solo show with credited piece of him
April 2022
101 Museum Drive
Palm Springs, CA 92262
–
THE OTHER ART FAIR, LA
Guest Artist -Varied works 
31st March – 3rd April 2022
4317 Beverly Blvd, LA
–
SAVE ART SPACE X PUSSY RIOT
Trans art body sculpture
7th March 2022 – 3rd May 2022
Forsyth Street & E Broadway
New York, NY
–
CHRONICLES OF LA
December 2018
2 week group show
DTLA
Exhibited 'Re-occuring nightmare' full body piece in acrylic tank
–
LATE AT TATE – TATE BRITAIN
A series of paintings, body paintings and workshops.
5th Aug 2016
Tate Britain, Millbank
London, SW1P 4RG
Special distinctions/
Won save art space – pussy riot billboard space
https://www.saveartspace.org/pussyverse
https://www.saatchiart.com/art-collection/BEST-OF-FAIR-The-Other-Art-Fair-Los-Angeles-March-2022/320013/663087/view
https://www.designscene.net/2021/12/holly-silius-interview.html
https://www.theartnewspaper.com/2022/03/09/nadya-tolokonnikova-saveartspace-billboard-exhibition-gender-pay-gap
https://fadmagazine.com/2021/12/14/lio-mehiel-holly-silius-explore-gender-queerness-transmasculinity-through-sculpture-in-new-charitable-collaborative-series-phantom-feels/
WORKS