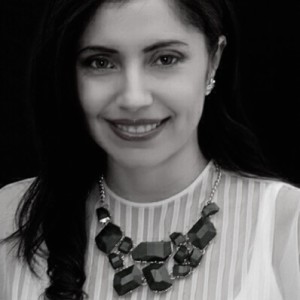 Cat DM is a digital artist and architectural illustrator born and raised in
Medellin, Colombia. Cat holds a B.A in Modern Languages from Universidad de Antioquia and a M.A in Communications from the University of Nebraska.
Now residing in North Carolina, Cat seeks to inspire curiosity and exploration through her unique mix of photography and digital illustration. Working from her Durham-based studio, Starstruck Creative, she mixes architecture, science, sustainability, and travel to invite viewers to connect with the
greater world around them.
Cat DM launched her art career in 2021, exploring the intersection between
art and science. She calls her artistic practice "cosmic architectural illustration." Cat has exhibited in the United States, Europe, and the Metaverse in
less than two years. She has worked on commercial projects and has
gathered a dedicated group of collectors in the United States, Netherlands,
Germany, and South America.
Solo exhibitions (title, date, location): • Arts & Health at Duke – Save Our Stars – Solo exhibit – March – May 2022 (5 pieces), Durham, NC • Art Therapy Institute of NC – Save Our Stars – Solo Virtual Exhibit – April – May 2022 (26 Pieces) – Carrboro, NC
Group exhibitions (title, date, location): • Ave22Metagallery – SPACE Group Exhibition – Metaverse – April 12 – 25, 2023. (2 Pieces) • WHAT IS ART – 5th Edition – Boomer Gallery – February 2023 – London, UK (2 Pieces) • "Building Bridges: An Exhibition of Latin-American Artists in the Triangle" – Orange County Arts Commissions – Eno Arts Mill, Hillsborough, NC – July 2022 (2 Pieces) • Carolina Bronze Sculpture – Group exhibit – Feb. – May, 2022 (1 Piece), Seagrove, NC • Crabtree Valley Mall – July 2021 – Community Group Exhibit (1 Piece), Raleigh, NC
Magazine Features • Phoebe Journal – May 2023 • Feature Suboart Magazine – April 2023 • Cover Artells Magazine – Fine Art Edition – April 2022 • Cover Rabble Review – Feb. 2022 • Feature Corbeaux Magazine – Spring 2022 • Cover Good Jinx Magazine – Dec – March 2021-2022 • Feature Top Posters Magazine – April 2022
WORKS