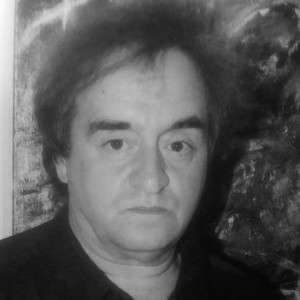 STELIOS ZACHAROUDIS
Stelios Zacharoudes was born in Thessaloniki, Greece. He studied drawing, graphic art and interior decoration – exterior. Between 1978-1983 he studied painting next to professor and painter Eva Batslacova at the School of Fine Arts Prague, Czechoslovakia. At the same time, he also attended Theater Scenography and Costume Design Courses. During his stay in Munich D. Germany and afterwards, in New York, next to the painter A. Zarcosian, he studied contemporary painting that lead him to his own personal art path.
In 1984 he meets the internationally renowned gallerist Alexander Iola who leads him to explore the color and abstract illustration. Experiential images, representations, feelings rooted deep inside begin to burst, searching ways to be expressed. The conventional virtual reality gradually fades as a form or shape.
He uses both oils and mixed techniques as collage. The subjects refer to reality and imaginary, directing to surrealism and automatic writing. On this stage, his painting expresses mostly forms and accentuated deformation, the interiority of color and completeness of the line.
His works have been presented in 24 individual and 23 group exhibitions in Greece and abroad and many of his paintings can be found in private and municipal collections and museums both in Greece and abroad.
Solo exhibitions:
1978 "FEX" GALLERY, XANTHI
1981 "N" GALLERY, MUNICH, GERMANY
1984 GOETHEINSTITUT THESSALONIKI
1989 MUNICIPALITY OF THESSALONIKI
1990 GOETHE INSTITUT THESSALONIKI
1991 GOETHE INSTITUT THESSALONIKI
1992 FOLKLORE HISTORY MUSEUM OF KOZANI
2000 YPEXODE OTA MEIZONOS, THESSALONIKI, GLOBAL EARTH DAY
2001 ARCHITECTURAL CENTER OF THESSALONIKI
2002 "ARTTOWER" , ATHENS
2003 «EPSILON» GALLERY, THESSALONIKI
2004 MYLOS GALLERY, THESSALONIKI
2008 DELARTECAFÉ, ROYAL THEATER OF THESSALONIKI
2011 "KODRA – EX MILITARY CAMP", THESSALONIKI
2011 "RΕΜΕΖΖΟ", MUNICIPALITY OF KALAMARIA, THESSALONIKI
2014 VAFOPOULEIO CULTURAL CENTRE, THESSALONIKI
2015 «FAUSTO» CAFÉ, THESSALONIKI
2015 "RΕΜΕΖΖΟ", MUNICIPALITY OF KALAMARIA, THESSALONIKI
2016 CULTURAL CENTER, MUNICIPALITY OF VEROIA
2017 "FRAGON 2" ART GALLERY, THESSALONIKI
2018 "CREMECAFE", THESSALONIKI
2018 "RΕΜΕΖΖΟ", MUNICIPALITY OF KALAMARIA, THESSALONIKI
2018 "MYRO" GALLERY, THESSALONIKI
2019 "GOVENTAROY" GALLERY, THESSALONIKI
Group exhibitions:
1977 "CIRCLE" GALLERY, THESSALONIKI
1978 KAPSIS HOTEL, THESSALONIKI
1981 «Q» GALLERY, LONDON, ENGLAND
2000 ARTHOUSE, THESSALONIKI
2000 «HOMERREIO» CULTURAL CENTER OF XIOS
2000 MUNICIPALITY GALLERY OF LARISA
2001 «EPSILON» GALLERY, THESSALONIKI
2001 MUNICIPALITY MUSEUM OF KAVALA
2002 "DROMENA TEXNHS" MYLOS
2002 «EPSILON» GALLERY, THESSALONIKI
2003 ANCIENT OLYMPIA, MUNICIPALITY OF OLYMPIA
2003 ΟΙΝΟ-PLANA, MYLOS, THESSALONIKI
2003 GIFT'S OF ART, MYLOS, THESSALONIKI
2004 INTERNATIONAL ART FESTIVAL CHANIA, CHANIA
2005 MUNICIPALITY GALLERY OF MYKONOS
2015 STATHAKEIO CULTURAL CENTER, ASTORIA, NY
2016 RUSSIAN CULTURAL CENTER, THESSALONIKI
2018 "NUDE" MYRO GALLERY, THESSALONIKI
2018 "ΜΥΡΟ" GALLERY, THESSALONIKI
2019 "ΜΥΡΟ" GALLERY, THESSALONIKI
2019 "GOVENTAROY" GALLERY
2019 MUSEUM OF KOMOTINH
2019 CONVENTIONAL CENTER OF PEIREUS BANK, THESSALONIKI
WORKS