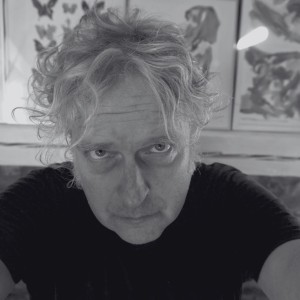 Joas Nebe, who holds degrees in psychology and literature, is a self- taught artist born in Hamburg but now located in South Germany. After a few years in Berlin, he decided to move south, close to the French and Swiss border. Important exhibits include the artist ́s "Climate Change Cartoons" on display on exhibition "Letters from the Sky" which accompanied the Durban UN conference on Climate Change 2011 in South Africa and "Machine Fair"- a film about the mechanical site of a metropolis- shown at Museum of Modern Art, Moscow as part of "Now&After" screening in 2012. Other film works has been shown at the 25th Festival Les Instants Video (Biblioteca Alexandrina, Cairo), Videoformes Festival 2014 and 2015, Sustain Our Africa, Madatac 3, 4, 5, 6 Competitive Official International Selection (Madrid), Papy Gy- ros Nights 2016 Hong Kong/ ART_TECTURE, In 24hours: Future Vi- sions (SHIFT:ibpcpa) 2020, just to name a few. 2021 Joas Nebe recei- ved the Audience Award at 1st International Conceptual Art Biennale in Latvia and 2023 the 5th International Prize Leonardo da Vinci and
the 1st International Pegasus Price for The Arts for Artistic Merits, 1st
International Price Michelangelo for merits in Artistic Research and
Stylistic Value of the body of work by Foundation Effetto Arte, Italy.
Gaming into Mindfulness
Interview with Joas Nebe by Rebecca Schoensee (excerpt)
"It's a never-ending game of disintegration. I challenge the viewer by not living up to his or her expectations. I am denying the satisfaction of solving the riddle, hidden within the depth of my artwork." By turning his filmic cabinet of curiosity into an intriguing jigsaw puzzle of hybrid geometric patterns, Joas Nebe teases the viewer into accessing his game. He believes: "Riddle games of this kind spark creativity and pass on the role of the artist to the viewer."
Taking the Reason Prisoner
To Nebe, "fantasy and creative intelligence are important survival skills today." So is chess, an analogy he keeps referring to: "Chess exemplifies my game with the viewer. In a world of shor- tening attention spans, it's an ideal concentration-practice. One always has to think a few steps in advance." By screening the insanity of our daily chase towards evolutionary bankruptcy, Nebe in a clever move takes the reason prisoner, only to appoint reason to be the king of his game of chess. He calls for a close review of the encyclopedia of our philosophical and cultural foundati- ons. In his opinion reason has the potential to direct a path away from the horror vacui he is de- picting: "The model of enlightenment has increasingly been discredited, wrongfully I believe. Today survival and coexistence are only possible if governed by the faculty of reason. Labeling and connoting intellectual categories help to bring new relations into sight and to gain unexpec- ted terms of knowledge."
The interview essay "Gaming Into Mindfulness" has been published in Humanize Magazine, is- sue 11, p. 20-31.
AWARDS
2023, STAR OF ART AND MARKET ´23, Contemporary Celebrity Masters Vol IV, publisher Salvatore Russo, Fondazione Effetto Arte, Palermo Italy
2023, 22nd july, 1st INTERNATIONAL PRIZE MICHELANGELO "The Genius of Italy" for artistic research and stylistic value of art work, Fondazione Effetto Arte, Palermo, Italy
2023, 18th may, 1st INTERNATIONAL PRICE PEGASUS for the arts for artistic mertis, Foundation Effetto Arte, Palermo, Italy
2023,18th may, TOP ARTIST, Contemporary Masters Vol. 2023, publisher Salvatore Russo, Fondazione Effetto Arte, Palermo, Italy
2023, april 5th, 5th INTERNATIONAL PRICE LEONARDO DA VINCI for artistic merits, Foundation Effetto Arte, Palermo, Italy
2023, february, DIPLOMA HONORIFICUS, INTERFERENCES mixed reality exhibition, curator Francesca Brunelo, Erika Gravante, M.A.D.S. Gallery, Milan, Italy, Metaverse
2022, november, CERTIFICATE OF EXCELLENCE, Creative Art Showcase, UK
2021, 16th june, 1st INTERNATIONAL CONCEPTUAL ART BIENNALE – IMAGE DECONSTRUCTION, IAVPOA, International Association for Visual, Performing and other Arts, Latvia, audience award for Hurricane Evacuation Route, link
STIPENDS
2017, M 5 ARTS stipend, Sacramento, CA, USA , link
RESIDENCIES
2021, 5th – 11th april, RUBB3R Instagram Takeover Residency, Maya Wallis, Rubber Collective, UK
2021, 25th march, DO IT YOUR WAY Instagram Takeover Residency, Jennie Murton, Do It Yourway team, UK, link
2020, 30th april, ECUMENE Residence, idea of Eni Derhemi and Giulia Dongilli, Trentino, Italia, link
2020, 23rd – 29th march, OPEN CALL ARTISTS ONLINE RESIDENCY by @boykeats (Lu Gallagher), Prag, Chzech Republic, link
2018, 1st – 31st march, Social Media Residency by PERIPHERAL FORMS, Portland, Oregon, USA, link
2018, 15th january – 15th february, cbAIRO Winter session II, Online Residency by Coldbench, link
2017, RESIDENCY BY CORRESPONDENCE, The Arts Territory Exchange Program, UK, link
SOLO SHOWS
2021, 27th may – 6th june, THE ROOM PROJECT: FEELING GOOD AND FEELING BAD ROOMS, curators Cista Arts Ltd. + Joas Nebe, Cista Arts, Lancaster University, London, UK, link
2020, 10th july – 7th august, THE PALACE PROJECT, curators OFAM + Joas Nebe, Online Fine Arts Museum (MArO/OFAM), Buenos Aires, Argentina, link
2020, 20th april, #ARTELATHOME, curated by Artel x OG Millie x Unfamous NY, Room Project, Dark Places, Booklyn, NYC, USA, link
2017, 19th june – 31st july, JOAS NEBE – THE VIDEO WORKS ON NATURE, curator Manzi Yang, 16:9 Gallery, UTLC Gallery, Lawrence Technical University, Michigan, USA
2016, 20th june – 23th july, YOU DID A BAD THING FOR A GOOD REASON, curator Marinus Jo Dimitrov in conjunction w/ IFEAF supported by Sir Christopher Grape Fund, Cormac Weiss Gallery, Berlin, Germany, link
2016, 1st may, Work Monography on VIDEOTHEQUE ART STREAM, Roku Channel, Philosophical Cartoons, Encyclopedic Cartoons, link
2016, 19th march, GAPE 09 – ENCYCLOPEDIC – JOAS NEBE, The Camel Game, The Grammar series/Gangland:Subjunctive, Adjective, Now, At Least, More Over, Noun/The Great Wall, Life Cycle No. 3, Mrs. Myers Is Watching Birds In Her Little Black Dress, Superwomen = Superheroes, Portraits of the dirty 99%, Enigmatic Cartons, Plateau Gallery, Berlin, link
2008, 13th march, INTRUDE ART & LIFE 366, Santiago Capriccio, The Tower, curator Biljana Ciric, ZENDAI MOMA, Subway Stations and Advertising Boards, Shanghai, China, link
SHOWS
2023, 17th may, THE LAST OF WINTERS?, Crakow Art Week KRAKERS, curator Anna Petelenz, Give My Regards To The Alps, Momentum Gallery,AP Kunst Art Fund, Crakow, Poland, link
2023, 13th – 21st may, POSTAL COLLAGE PROJECT No. 12, curator Marty McCutcheon, Berkeley Art Center, Berkeley, CA, USA
2023, 30th april – 13th may, SIDEWALK VIDEO GALLERY, The Elefant In The Room, curator Marie Craig, Fountain Street Gallery, Boston, MA, USA
2023, 16th – 22nd february, INTERFERENCES, mixed reality art exhibition, curator Francesca Brunello, two collages from The Meaning of the Void series, M.A.D.S Gallery, Milan, Italy, link
2023, 3rd february – 12th march, JETZT:ALLE, 3rd february film screening, The End of the World, BBK Hamburg, Kunsthaus Hamburg, Germany
2023, 14th january – 19th february, SURROUNDUNGS, curator Kristina King, Hurricane Evacuation Route, Shareholder´s Room, Room With A View: Suburban, Glen Echo Park Partnership Galleries for Art and Culture, Glen Echo, Bethesda, MD, USA, link
2022, 16th – 30th november, ENDINGS – TIME MACHINE, curator Anna Petelenz/AP KunstArt Fund, A Clockwork Toy, Momentum Gallery, Krakow, Poland, link
2022, 11th november, CALM, CENTERED, AWAKE – AN EXHIBITION FOR THE INNER LANDSCAPE, BELLTOWN ART WALK, Sanctuary Studios, curator Peter Christenson, A Clockwork Toy, Seattle, WA, USA, link
2022, 29th -30th october, FAUNA AND FLORA, Flamingo Beat + Spa, highly commended for digital category, curators Malcolm Brooks, Nicola Winstanley, Creative Arts, Bromsgrove, UK
2022, 2nd – 15th october, SIDEWALK VIDEO GALLERY, Fountain Street, The Sweet Here After: Wallpaper, curator Marie Craig, Boston, MA, USA, link
2022, 22nd – 26th september, REFRAMING RECOVERY, (GHOST)flowers #1, curator Frank McCauley, VisArts´ Studio 156, Rockville, MD, USA, link
2022, KWALHIA, Official Selection, ExperimentalFilms.online, curator Sergio Aguirre, Leaving A Message The Inefficient Way (2), CineclubESFERA, El Armen, Nuevo Leon, Mexico, link
2022, 18th may – 31st december, EUROPEAN DIGITAL ART FAIR-EDAF by V-ART, Art Spaceship, Sector B, curated by Eleonora Brizi/Breezy, Leaving A Message The Inefficient Way (1), Ukraine, link
2022, 27th march – ongoing, CALL AND RESPONSE/ NATURE WE ARE, international group exhibition curated by Shoe Box Arts and Kristine Schomaker, Collaboration with Beatrice Antonie Martin, Brooklyn, NYC, USA, Brewery Artist Complex, Chumash, Kizh + Tongva Island, Los Angeles, USA, link
2022, 23rd march – 6th april, NO LONGER VALID International Exhibition, curator Anna Petelenz, The End of the World, AP KunstArt Fund, Momentum Gallery 06, Chopin Street 17/3, Krakow, Poland, link
2021, 9th – 17th december, ON MEDIA. SIGNALS AND CONNECTIONS, international group exhibition curated by Loosenart, A Clockwork Toy, Space Millepiani, Rome, Italy, link
2021, 12th – 15th november, OBLIVION, exhibition, Dance 2, Merakii Art House, New Delhi, India, link
2021, 21st october, 11th UNDER THE SUBWAY VIDEO ART NIGHT (USVAN), curator Antonio Ortuno, The End of the World, FantastikLab, Valencia, Spain
2021, 16th october, 11th UNDER THE SUBWAY VIDEO ART NIGHT (USVAN), curator Antonio Ortuno, The End of the World, St. Nicholas Park, 135th st. and St. Nicholas Ave and St. Nicholas Terrace, sponsored by New York City Department of Parks and Recreation, New York City, USA, link
2021, FEX EXHIBITION, The End of the World, Out of Sight: The Construction of the World, Cologne, Germany, link
2021, 31st july – 1st august, POSTAL COLLAGE PROJECT, curator Marty McCutcheon, Berkeley Art Center, Berkeley, CA, USA, link
2021, 3rd may – 28th june, POSTAL COLLAGE PROJECT No. 10, curator Marty McCutcheon, The Shuman Block, Studio 1a, Berkeley, CA, USA , link
2021, may, KULA EXHIBITION, selected works created for Ecumene Residency, curated by Ecumene Project, Petals on Cobblestones photography, Italy, link
2021, 12th -22nd may, RARE EFFECT Vol. 2 NFT FESTIVAL , curated by Art Progression Now collective, The Palace Project, Arroz Estudios, Beato, Lisbon Portugal, link
2021, 26th april – 30th june, PRESENT ESCAPISM, The Digital Hole Gallery, curators Jamie Marie Rose, Ranjit Bhatnagar, Dr. Jane Cook, Palm Rush Hour, London, link
2021, 29th january, THE VIRTUAL ART FAIR, 4th edition, Official Selection, Hurricane Evacuation Route, London, UK, link
2021, 28th january, ABSTRACT MUSE IN TOGETHERNESS OF DIVERSITY, exhibition curated by Irina Klyuer, A Clockwork Toy, UK, link
2020, 4th – 7th september, SPHERE – WORLD CINEMA CARNIVAL, first edition, Official Selection, featured artist, 7th september A Clockwork Toy, curator Zero Degree Arts, India, link
, link 2020, 4th september – 4th october, THE VIRTUAL ART FAIR, 3rd edition, Official Selection, Palm Rush Mirror, London, UK, link
2020 11th may – 31st, WINDOWS INTO THE WORLD: VIDEO, curator Cameron Kelly, The Dance II, The Puddle of Dream No. 1, Chico Art Center, Chico, California, USA, link
2020, 4th october, PONDERSAVANT, ADORABLY HORROR, curator Mia Savant, Monster No. 1, UK, link
2020, 14th august, PONDERSAVANT, IT´s THE LITTLE THINGS, curator Mia Savant, The Tower, UK, link
2020, 21st may, PONDERSAVANT, STILL SHINING, curator Mia Savant, The Room Project: Magic Box, UK, link
2020, 10th may, 1111 GALLERY, The Room Project: Clockwork Toy, 1111 Gallery, Budapest, Hungary, link
2020, 15th april, PONDERSAVANT, A DASH OF WHIMSEY, curator Mia Savant, A Clockwork Toy, UK, link
2020, 18th april, THE WORLD TAKES A BREATH, A Clockwork Toy, Dance 2, curator Rob Warren + Molly Demeulenaere, Paperplane Consulting, UK/US, link, link
2020, 14th april, The GRAVY ZINE, group show, link
2020, 1st april – 29th may, IN 24h: FUTURE VISIONS (29th april), SHIFT: THE INTERNATIONAL BIENNALE of PERFORMANCE, COLLABORATIVE and PARTICIPATORY, curator Ayshia Taskin, (Shift:ibpcpa), Room With A View: Suburban, The Wall Space Gallery, Scotland, UK, link
2020, CIGARRERAS, curated by ACOA (contemporary Artists from Alicante), Puddle of Dream No. 7 (The Devil´s Puddle), Alicante, Spain
2020, 21st february – 26th march, MANNERS OF SPEAKING – E KORERO ANA NGAWHA KATAUKI, curator Sonja van Kerkhoff, proverb: You Cannot Step Into the Same River Twice, videos: Nightmare Room, Shareholder´s Room, Geoff Wilson Gallery, Whangarei, New Zealand, catalogue , video , article
2020, 11th january, BLAUE STUNDE X – ALL STARS, Black Trash, curator Beate Boerdes, Ria Gerth, Alte Feuerwache, Köln, Germany
2019, 15th february, 16th february, IN MY HOUSE, The Landmark Project: Vogelhaus, curator Abigail Miller, Southhampton, UK, link
link
2019, 22nd november, KINO KLUB SPLIT, SHORT PETTING(S), powered by AGITATE 21:c, The Landmark: Vogelhaus, Schaukasten: Street B, The Dance II, curator Darko Duilo, Split , Kroatia, link
2019, 7th november, STRATEGIES 🙂 FOR + AGAINST ARCHITECTURE, Puddle of Dream #0, curator ARCHMEX, Galerie Werkstatt Nuu, We Open Space, Vienna, Austria, link
2019, 11th october, KINO KLUB SPLIT, Shrt(s) Petting – Shorter Frictions – Punk Lullaby (powered by Agitate 21:c web-oriented Group, Don´t Forget The Monsters, curator Darko Duilo, Split, Kroatia, link
2019, 26th october, HALLOWEEN TORCHLIGHT TOUR, Direct Art Action, The Dance II, curator Rufina L. Muraviova, Sutton Coldfield Community, link
2019, 29th september, DE-CONSTRUKT potluck community dinner, film screening and philosophical discussion, Grammar Serial/Gangland: Verb, curator Alexandra Banhazl, Red Hook Brooklyn, 41 Seabring Street, 3rd floor, Brooklyn, New York, USA, link
2019, 2nd july – 15th september, WELCOME TO THE REJECTS, curator coldbench, Life Cycle No. 2, Shareholders Room, England, link
, catalog
2019, 30th august, STREAM – VISUAL MEDIA ART EVENT AND EXHIBITION, WET Productions, The Landmark Project: Vogelhaus, Middlesborough, UK, link
2019, 25th august, STREAM – VISUAL MEDIA ART EVENT AND EXHIBITION, WET Productions, The Landmark Project: Vogelhaus, City Centre Leeds, UK, link
2019, 18th june, TEA IN A THUNDERCUP, director Alison Williams, Hyperflexion Contemporary Art Gallery, Port Elisabeth, South Africa, link
2019, ANNUAL EXHIBITION, Battleship Larger Then Life Opera, curator Garry Holstein, New Harmony Gallery of Contemporary Art, University of Southern Indiana, New Harmony, Indiana, USA, link
2019, DREAMTIME, Dark Places: Hidden Entrance to Paradise, curator Katya Sanna, Lys d´Or, Italy, link
2019, 6th – 23rd june, THE ROUND TABLE (COLLABORATION) POSTAL COLLAGE PROJECT, The Shuman Block, 2571 Shattuck Avenue, Berkeley, USA
2019, april/may, THE ROUND TABLE (COLLABORATION) POSTAL COLLAGE PROJECT,, Ramon´s Tailor Artist Salon, 628 Jones Street, San Francisco, USA
2019, 23rd march, THE ROUND TABLE (COLLABORATION) POSTAL COLLAGE PROJECT, The Shuman Block, 2571 Shattuck Avenue, Berkeley, USA
2018, 21st november, TIME IS LOVE.11 (SHOW 5), curator Kisito Assangni, The State Of Chrip, Mulhouse Art Contemporain MOTOCO, Mulhouse, France, link
2018, 17th – 18th november, RENDEZ-VOUS DU CARNET DE VOYAGE, "City/Ville", curator Gabriel Soucheyre, Polydome, Clermont Ferrand, France
2018, 1st – 7th october, DAILY MIGRATIONS, ATE Views project and documentation, curator the collective Without Appeal, Hackney Arches, London, UK, link
2018, 20th october, TIME IS LOVE.11 (Show 5), The State of Chirp, curator Kisito Assangni, Galerie Toolbox, Berlin, Germany, link
2018, 6th september – 7th october, ANTHROPOCENE: OF OUR OWN MAKING, curator Mandy Caldon, The Room Project, PANACEA MUSEUM, Bedford, UK, link
2018, 4th november, BLAUE STUNDE: fern.weh, curator Beate Gördes, Postcard Love, Wetzlarer Kunstverein e.V., Wetzlar, Germany, link
2018, 25th august, RETROSPECTIVE: SEVEN YEARS OF THE POSTAL COLLAGE PROJECT, curator Marty McCutcheon, The Shuman Block, Berkeley, USA, link
2018, 5th april – 26th may, ROUND TABLE COLLABORATION Project No. 7, curator Marty McCutcheon, Ramon´s Tailor, 628 Jones Street, San Francisco, CA, USA
2018, 24th – 31st march, ROUND TABLE COLLABORATION Project No. 7, curator Marty McCutcheon, The Shuman Block, 2571 Shattuck Ave., Berkeley, USA
2018, 22nd february – 8th march, THE DEMOCRACY SCRABBLE PROJECT, curator Anna Corpas + Joas Nebe, (.BOX) Video Project Space, Milan, Italy, link
2018, 22nd march – 27th april, THE DEMOCRACY SCRABBLE PROJECT, curator Anna Corpas + Joas Nebe, Visualcontainer TV, Milan, Italy, link
2018, 24th – 28th april, CASABLANCA INTERNATIONAL VIDEO ART FESTIVAL, TIME IS LOVE.11 (Show 3), The State of Chirp, curator Kisito Assangni, Casablanca, Morocco, link
2018, 31st march, Time Is Love.11 (Show 2), The State of Chirp, curator Kisito Assangni, CCA Center of Contemporary Art, Glasgow, UK, link
2018, 17th – 24th february, TIME IS LOVE.11 (Show 1), The State of Chirp, curator Kisito Assangni, Lily Agius Gallery, Sliema, Malta, link
2018, 6th january, BLAUE STUNDE VIII – FERNWEH, curator Beate Goerdes, Postcard Love, Alte Feuerwache, Cologne, Germany, link
2017, 12th december – 30th march 2018, /SCALE/ exhibition, Dictionary serial, online exhibition, Coldbench, UK, link
, catalog
2017, 24th december, Time Is Love.10 (Show9), curator Kisito Assangni, The Dictionary serial: The Ocean, Addis Video Art Festival, Addis Ababa, Ethiopia, link
2017, 9th – 11th, 16th – 18th november, WORD PLAY exhibition, NEWHAM WORD FESTIVAL, curator Sophie Rigg + William Alexander, The Grammar serial/Gangland: The Verb, The Grammar serial/Gangland: Subjunctive/Dreamland, The Grammar serial/Gangland: Now, Forest Gate Arts, London, UK, link
2017, 5th, 6th august, ROUND TABLE (COLLABORATION) POSTAL COLLAGE PROJECT, curator Marty McCutcheon, The Shuman Block Art Studios 2571 Shattuck Avenue, Berkeley, CA, USA
2017, 15th – 28th may, 28th may, BRAVE NEW WORLD at video art section of FESTIVAL LABIRINTO II, organized by Gruppo della Creta, curator Nicolas Vamvouklis, The Postcard series, K-Gold Temporary Gallery, Teatro Studio Uno, Rome, Italy
2017, 24th – 28th june, USTRUCTURE EXHIBITION, curator Kushtrim Zeqiri, The Dictionary serial: The Procrastinator, Theatre Of The City/Main Entrance Hall, Gijan, Kosovo, link
2017, 19th august, (EXPERIENCIA) HIEDRA, Time Is Love.10 (Show7), curator Kisito Assangni, The Dictionary serial: The Ocean, Guevara 202/Chacarita, Buenos Aires, Argentina, link
2017, 16th june, Time Is Love.10 (Show6), curator Kisito Assangni, The Dictionary serial: The Ocean, Gallery MCube, Lalitpur, Nepal, link
2017, 24th – 29th april, SOFIA UNDERGROUND, Performance Art Festival, Time Is Love.10 (Show5), curator Kisito Assangni, The Dictionary serial: The Ocean, Sofia, Bulgaria, link
2017, 4th – 9th april, FESTIVAL INTERNACIONAL DEL VIDEOARTE DE CAMAGUEY, Time IS LOVE.10 (Show 4), curator Kisito Assangni, The Dictionary serial: The Ocean, Camaguey, Cuba, link
2017, 3rd – 25th february, M5ARTS ArtSTREET, The Dictionary serial: The Procrastinator, The Art Hotel, Sacramento, California, USA, link
2017, 15th april – 27th may, ROUND TABLE (COLLABORATION) POSTAL COLLAGE PROJECT, curator Marty McCutcheon, Ramon´s Tailor, 628 Jones Street, San Francisco, USA
2017, 25th march, ROUND TABLE (COLLABORATION) POSTAL COLLAGE PROJECT, curator Marty McCutcheon, 2571 Shattuck Avenue, Berkeley, CA, USA
2017, 1st april, FUTURE IMPERFECT SYMPOSION, TIME IS LOVE.10 (Show 3), curator Kisito Assangni, The Dictionary serial: The Ocean, Plymouth University, Drake Circus, Plymouth, UK, link
2017, 18th february, TIME IS LOVE.10 (Show 2), curator Kisito Assangni, The Dictionary serial: The Ocean, Artspace, Tel Aviv, Israel, link
2017, 20th january, TIME IS LOVE.10 (Show 1), curator Kisito Assangni, The Dictionary serial: The Ocean, ZKM, Karlsruhe, Germany, link
2017, 5th march, ROUND TABLE (COLLABORATION) POSTAL COLLAGE PROJECT, curator Marty McCutcheon, Berkeley Public Library Central Branch, Berkeley, CA, USA, link
2016, 19th + 20th november, BLACKBOX PRÄSENTATION KURZFILME AUF VIDEO, The Dictionary serial: Not My Cup Of Tea, Biberstein, Kirchbergstr. 24, Aarau, Switzerland, link
2016, 30th august – 5th october, HOTEL EUROPA, Concordia Festival Enschede, curator Petra Boonstra, Give My Regards To The Alps, expositieruimte Langestraat 56, Enschede, The Netherlands, link
2016, 25th, 26th, 27th september, PLYMOUTH ART WEEKENDER, POST-EVERYTHING exhibition curated by Video Social Club, The Camel Game, The News Bulletin Broadcasting Opera, Plymouth, UK, link
2016, 27th august, SEA CHANGE FESTIVAL, POST-EVERYTHING exhibition curated by Video Social Club, The Camel Game, The News Bulletin Broadcasting Opera, Barrel House Ballroom, Totnes, UK, link
2016, 8th – 28th august, BRAVE NEW WORLD, curator Nicolas Vamvouklis, The Postcard series, supported by NEON Organistion for Culture and Developement, K-Gold Temporary Gallery, Agia Paraskevi, Lesvos, Greece, link
2016, 3rd – 4th, 11th – 12th june, ProArts EAST BAY OPEN STUDIOS ARTS FESTIVAL, POSTAL COLLAGE PROJECT No. 5, curator Marty McCutcheon, The Shuman Block, Berkeley, USA
2016, 28th + 29th may, BLACKBOX PRÄSENTATION KURZFILME AUF VIDEO, The Camel Game (video installation at lounge), Biberstein, Kirchbergstr. 24, Aarau, Switzerland, link
2016, 7th april – 22nd may, POSTAL COLLAGE PROJECT No. 5, curator Marty McCutcheon, Ramon´s Tailor, San Francisco, USA, link
Biography:
1990-1992 law studies, University of Hamburg, Germany, Department of Jurisprudence I
1994-1998 psychology, art history, media and philosophy studies, faculty of psychology, faculty of fine arts, faculty of letters, faculty of philosophy, University of Hamburg, Germany
1998 diploma in psychology and media sciences
2000-2002 stage direction studies, Institut fuer Theater, Musiktheater und Film (ITMF), Hamburg, Germany
1998 lectureship on film for Reemtsma Cigarettes Company, Hamburg, Germany
2000-2006 lectureship on film at the University of Hamburg, faculty of psychology
since 2010 free lance curatorship
WORKS