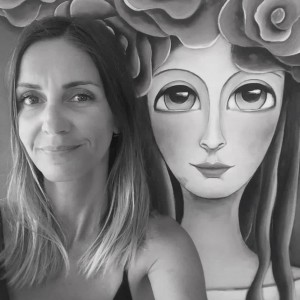 MARIA NENADI
Maria Nenadi was born and raised in Thessaloniki, where she has been living till now.
She studied Civil Engineering at the Aristotle University of Thessaloniki and started worked as a civil Engineer for a period of 10 years. That was when she reached a certain point in her life, through a passage of internal research, that she came across the painting experience for the first time.
Taking her first steps in painting, she started finding the answers she was searching for. That was the main reason she decided to stay in the art world, trying to make it her way of living.
Since then, she is attending private lessons, always searching food for thoughts, creativity and emotions that will lead her deeper into her art world.
On September 2018 she created her own art space, in Kalamaria, and painting became officially the center of her life.
She has participated in group exhibitions in Athens, Paros and Thessaloniki.
Paintings of her can be found in private collections in Greece & abroad.
WORKS