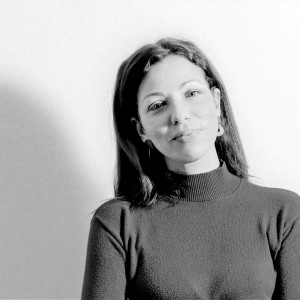 Georgia Trouli was born in November 1979 in Crete but lives and works in Thessaloniki.
She has a graduation degree in Health and Welfare Studies (ATEI Thessaloniki), a degree in Philosophy Studies at AUTh. (Department of Psychology), she also has a Fine Arts degree from Aristotle University of Thessaloniki, where she also studied Faculty of Political Science and got her postgraduate diploma on Visual Arts "Approaches to the physical and urban space of the Faculty of Fine Arts of the University".
Till now, she had 4 solo exhibitions and has participated in many group exhibitions in Greece and abroad. She has curated the "we shape reality" exhibition at Myro Gallery, the "3E-Element-Environment-Energy" exhibition at the D. Nomikos Tomato Industrial Museum in Santorini and the "Summerize" exhibition at the Troulis Royal Collection, Crete.
Her work has been featured in literary magazines and publications. She has been collaborating with Shakespearikon Publications, designing books' covers and vignettes.
She is also a writer, has published six poetry books with Eridanus, Bibliotheque and Shakespearikon Publications. Meanwhile, her seventh book is being published by Thrace. She publishes articles and poems in various printed and electronic literary magazines and websites. Her poems have been translated into English, Swedish, Italian, Croatian, Lithuanian, Danish and have been included in international collections. She also participates in literary festivals abroad.
At the same time she organizes urban art activities with groups of poets and artists (Song of Songs-Rotonda, Romos Filiras- Psychiatric Hospital of Thessaloniki, Women's Cry – Macedonian Museum of Contemporary Art, 3×3 Field of Action Kodra, etc.).
Solo Exhibitions
6.2020 "Walk the line" Laika The Cosmonaut, Thessaloniki
9.2019 "Dead Languages" Laika The Cosmonaut, Thessaloniki
1.2020 "#Bemyline" Defacto, Thessaloniki
2014 «Filtration in linear» Myro Gallery, Thessaloniki
2015 «Sang» Space 35, Thessaloniki
Group Exhibitions
2020 "Generations" Μunicipal Art Gallery, Crete
2020 «L'Art Persistant» Galerie du Colombier, Paris
2019 International Art Fair Thessaloniki, Helexpo, Thessaloniki
2019 «Portrait as sin» Chilly Art gallery, Athens
2019 «Naked Truth» Aqua Art Gallery, Santorini
2019 «ArtDiamondsVol.» Ίδρυμα Εικαστικών Τεχνών Τσιχριτζή, Athens
2019 «Concessionaire» Τrii Art Hub, Athens
2018 «Abstraction Gesture» Canaves Oia Epitome, Santorini
2018 «Darling Shine» Motogianni Hall, Myconos
2017 «Dada no Dada» Refugees Museum, Thessaloniki
2015 «Intellectum» Tossa Gallery-Ladose, Thessaloniki
WORKS