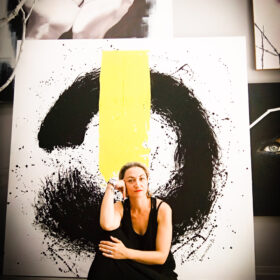 Welcome to THE ART SPACE!
I am Christina Michalopoulou, an artist and business woman in Thessaloniki, Greece, and I welcome you to THE ART SPACE, the greek digital art gallery of contemporary works of art from artists worldwide. A gallery that was created motivated by my love for art, the need to express and evolve creatively through art and the attempt to introduce new artists to our audience.
Our gallery includes a variety of different styles of art works for sale that can satisfy all preferences. Additionally, our artists can create art works on demand, either for private collections or for decorating professional spaces.
What's more, we provide consulting services in regards to the purchase and placement of works of art for personal or professional spaces (offices, companies etc). We look forward to a personal communication to discuss your art needs and your space demands. Our free services include the novel option to receive a photo of your space in order to virtually position the art work of interest in order to give you a realistic view of the art work inside your space. You can learn more about this service here.
We also undertake the design and development of art decorating of spaces for hotels, reception areas and hotel suites always targeting high aesthetics space decoration and driven from our love and respect for art.
We responsibly provide the relevant signed certificates of authenticity for every work of art in our gallery.
And, of course, do not forget that a work of art, whatever its' cost, is always a unique and magnificent gift for unique people in your life or for a special occasion.
For any questions or information regarding our gallery and works of art, please don't hesitate to contact us. We will be very glad to meet you and discuss with you!
Kind regards,
Christina Michalopoulou