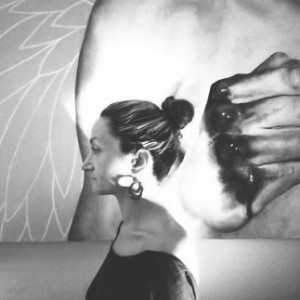 I am Christina Michalopoulou, an artist, businesswoman, mother and wife, born in Thessaloniki, Greece, where I live and work as a contemporary painter. I have a Bachelor Degree in Marketing MA, Kingston College University of London. I have also studied Architectural Drawing at "Ergastiri" School of Arts, Thessaloniki, and Drawing &Color Technics at "Psarakis" School of Arts, Thessaloniki. For 11 years I have been working in the Advertising & Marketing Section, in administrative positions. Since 2008 I created Happyrooms.gr, an eshop and physical shop, with newborn and babies handcrafted and handpainted goods and since 2018 I also created an Art Gallery in Thessaloniki, named DEKA5/ENDEKA Art Space and the eshop www.theartspace.gr. My mediums are acrylic paints & oil colors on large canvas surfaces. My paintings are figurative, realistic human figures and body parts, on surrealistic environments. I often like to bring the realism, sometimes even photorealism, of my figures in contrast with an abstract, pop or fictional background. A play of surrealism resemblance to a collage.
Artist Statement
I returned to painting after a long hiatus. It would seem that I was gathering images and shapes during that time. I was building an unconscious archive that lived somewhere underneath my breath. They are all now pouring out, unstoppable, in acrylic and oil, in abstraction and hyperreal figuration, in blossoming color and start monochrome.
My focus is the emotional and the affective as emerging in human bodies and faces. I am interested in desire, love, obsession, sadness and elation, claustrophobia and liberation, hells and heavens. While I paint, with my brushes and my fingers, I touch upon the form of the body and how it shifts when dressed in different shading and light; the skin and the way it carries its wounds and traumas, the way it scars from things physical and mental; I love tracing the way the body recoils or spreads when touched, the way it flourishes or hides away when looked at; I am always attracted to the affects of sounds and looks, the way the body might be reacting to them and how they make it turn, towards them or away from them.
My bodies are always dipped in a space of different texture: it could be angular and harsh, or soft and nebulous, but it always carries the causes for the body's posture, it gives clues, it explains what is happening. The dialectic between body and space is the overarching bridge of my work. The spaces I paint might not be physical or representational. They might just be the space of the canvas. But they always give form to the body folded in them. Space and body embrace each other in seriousness or fun, in cartoonism or quotidian tragedy, in concreteness and abstraction.
Exhibitions:
• 2020 Charity Gala Event Supporting "ELPIDA" Foundation Marianna V.Vardinoyiannis, The BOX Gallery (6/3)
• 2020 Royal Opera Arcade Gallery, London, Shortlisted for the Royal Arts Prize (20-29/2)
• 2020 "Anthropologio", Art.Number23 Gallery, Athens, Thissio (18/1 – 12/3)
• 2019 Solo Exhibition "Selfie", Chili Art Gallery, Athens (5-21/12)2019 Art Thessaloniki, participation with Chalkos Gallery, Helexpo International Fair Center (21-24/11)
• 2019 "Roy's People Art Fair", International Exhibition at Truman Brewery, London (3-6/10)
• 2019 "En Plo", Time of Art Gallery, Athens
• 2019 "La Vie En Rose", Peiraios Bank Establishment, Thessaloniki
• 2019 "The Body Language", ITSLIQUID International Art Exhibition, Venice Italy
• 2018 "Art in 3 Bids", Μyro Gallery, Thessaloniki
• 2018 "Nude", Μyro Gallery, Thessaloniki
• 2018 International Art Exhibition, Macedonia Palace Hotel, Thessaloniki
• 2018 "Give back", G.H.Papageorgiou, Visual Arts Sector, Thessaloniki
• 2017 Group Exhibition, Govedarou Gallery, Thessaloniki
• 2017 International Art Exhibition, Porto Palace Hotel, Thessaloniki
• 2017 «Lost Motherlands II», Helexpo – "Ioannis Vellidis" Congress Center, Thessaloniki
• 2017 «Lost Motherlands I», G.H.Papageorgiou, Visual Arts Sector, Thessaloniki
• 2016 «Forms in Grey», G.H.Papageorgiou, Visual Arts Sector, Thessaloniki
• 2014 La Mamart, Group Exhibitions, Peiraios Bank Establishment, Thessaloniki
Distinctions:
• 2020 Nominated for the Royal Arts Prize, Royal Opera Arcade Gallery, London
• 2020 Artist of the Year 2019 Contest Finalist, Circle Foundation for the Arts, February 2020
• 2019 Honourable Distinction in the Circle Foundation for the Arts, Art Competition, May 2019
• 2019 Honourable Mention at ITSLIQUID International Contest – 6th Edition 2018:
• 2019 Artsy Shark Featured Artist February '19: https://www.artsyshark.com/2019/02/14/featured-artist-christina-michalopoulou/
• 2016 1st price for the participation in "Forms in Grey" International Art Fair, G.H.Papageorgiou, Visual Arts Sector Thessaloniki
WORKS