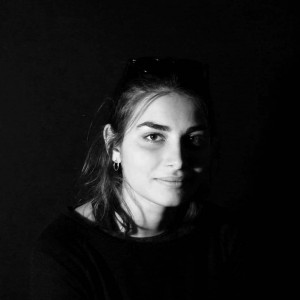 I live and work in Thessaloniki. I graduated from Visual Arts and Art Sciences Department of the University of Ioannina, painting orientation. I did my internship at MOMUS, Metropolitan Organization of Thessaloniki Fine Arts Museums, Macedonian Museum of Contemporary Art, where I came in contact with curating and setting up exhibitions. Apart from the art of painting, I was involved in photography at the photography studio "Photoreason" of Stefanos Tsakiris (photographer's assistant, use of digital photo editing programs, organization of events of artistic character – curating a photographic exhibition, communication).
I have participated in various artistic events of Thessaloniki, Christmas Squares (Municipality of Thessaloniki and Kalamaria, 2017-2018), in creative workshops for children (Events of the Balkan Square, Municipality of Neapolis Sikeon). I have worked in the artistic pedagogical group, "Drawing in the city", where I implemented artistic workshops for children (2018-2019). I continued my involvement with children at the drawing tutorial "Drawing Drawing Drawing", with drawing, sketching and painting workshops for children of primary and secondary education (2019-2020) and at KEDKA (Community Benefit Enterprise of the Municipality of Kalamaria) as the head of the painting workshops for children, adolescents and adults (2020- 2021). I have been involved in set design -creating visual installation- in the context of two theatrical works produced by the amateur theatre group of Asprovalta (2019).
Solo Exhibitions:
"Let me paint you a poem", Thessaloniki (October 2020-September 2021), Laika the cosmonautkafe.
"Experiments", Ioannina (March-April 2017), Sfentona café.
Group Exhibitions:
Artnumber23, November 2020, virtual gallery.
Pikap Community-Art in Thessaloniki, January 2020, at Casa Bianca.
"Terra Incognita", in the context of the archaeological dialogues, University of Ioannina, (June 2017), G. A. K. – Historical Archive – Museum of Epirus
WORKS